Comeback. Magic. Awe. Unbelievable. Repeat. Remember. Elimination. Expectation. Pressure. Celebration. Unlikely victory. It's never over til it's over. Thrilling. Exciting. Stressful. Hopeful. Youth. Experience. Management. Dugout speeches. Rally. Doom to Boom. Overcoming. Believing. Coming together. Listening. Watching. Playing. Hoping.
These are our buzz words. This is our emotional roller-coaster. Kansas City is turning blue- from fountains to footwear. Today's teachers and bank tellers are wearing t-shirts and jersey's with jeans instead of ties and suits and dresses. Kindergartners and 86 year-olds are wearing Royal's gear. "Go Royals" is a greeting just as good as, "Hi" or "Bye" even if your consort is not wearing blue.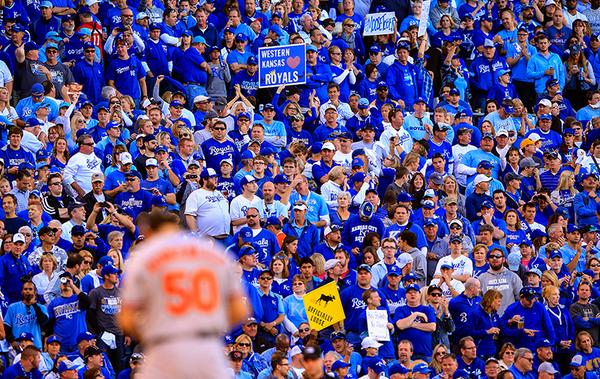 I'm living in Kansas City in the middle of the baseball playoff season on the edge of my seat.
Monday's ALDS Game 4 was our elimination station- the Royals had to win and they weren't. After watching at a quiet Ruby Tuesday with Drew and then Laura over their work lunch hours, Laura and I left to our own car radios to get back to work. We would listen to what was surely the end. For us, it never occurred not to listen. To many of my friends, when the going got tough and ugly, they tuned out and turned it off.
On Barry Road I heard the reversed call that ended Terrance Gore's trip around the bases in the top of the 7th. I heard a two-run Correa home run off a Ryan Madson 3-2 pitch.  Then before I let out my "Ugh" breath, the Astro's hit a solo home run to go up 6-2 by the end of the 7th.
I entered Oakley's Parent's Day Out pick up with a low countenance. I felt defeated and that the playoff run was disappointingly over.
I texted Laura and Drew, "It's over"
Laura texted back disappointment and righteous anger.
After buckling Oakley up, at the start of the 8th inning, I texted Laura back to say, "Beat defeat! Hold onto Hope." That's what I tell Andi and for some reason I told myself and the Royals in that moment, as well.
By the time we drove the 3 miles home, the Royals had hit 3 singles. The bases were loaded and Oaks and I ran to the basement.
Our radio is down there as well as Oakley's train track so we were both set. Every time they got a hit, and then runs, Oakley and I would run. Laps around the basement. Overly jumpy jumps on the mini-trampoline. Some runs with Oaks right behind me, others with him on my hip. He would high-five and chant "Let's Go Royal's- clap-clap- clap" on his own volition and then go back to playing trains. Then I'd scream and jump and he would drop the train to celebrate with me.
So went our act for all of the 41 minutes in the top of the 8th inning.  We came up with the Royal's ahead 7-6 in the ninth to greet Eli and Andi and welcome them to the basement celebration.
Turns out their speech teacher was sending everyone out of the school yelling, "It's TIED! They TIED IT UP!". They listened on the bus radio until their own small voices with big yells took the bus over with "Let's Go Royals" chants. "You would have heard us on the street Mom!", Eli assured me.
Hosmer would hit a two-run home run in the ninth and Wade Davis gave us six outs.
They had hoped. They beat defeat.
And hope is what we hold again today. Game 5 will start in exactly two hours  and hope rises high. Confidence and trepidtion sit side by side and blue people gather in homes and at the K.
We have to be grateful for the weeks before this one. For me, my Monday antics- the emotions, words, texts, screams, high fives, and jumps and time with Oaks and listening to the end with Eli, are gifts I hold dear.
To overcome when you're down is not just a great and rare sports experience, its a design we are built to wear. 
When I am down, if the odds are stacked against my kids, or the score is uneven for the underdog, the call to hope should be heralded. 
To beat defeat is to hold onto hope.
Hope is different than faith- it doesn't demand an outcome or proof, it just says, "I am choosing to believe the good can come, and the deficit can be erased, and the odds overturned." Hope says, "Don't give up and know people are cheering for you." Hope says, "Being stuck isn't where I'll stay." And hope says, "I hope they can do it tonight."